The original dwelling dated 1899 has been brought to light, the tuff is master, along with the arches and the star vaults. What was once considered simple, today acquires value.
Luxury is in the ancient beauty that today relives thanks to the passion of two crazy lovers who have renovated a typical "Casa alla fasanese" for the love of the city, its traditions and its history.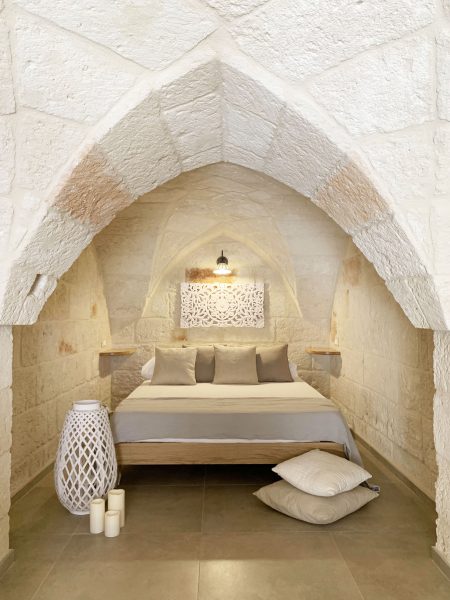 Concept
Suite Fasano is for travelers alone or couples, families looking for authentic places, fabulous foreshortenings, history, culture and mystery.
The Suite is also a space dedicated to book sharing, so we leave our guests books and magazines to browse, to enjoy every moment spent in the house, gently rocked on the rocking chair.
Fasano is tradition, but also tastes, smells, crafts. We will inform you about restaurants, craft shops and shops of typical products: you will return home with a piece of Puglia and Fasano in the heart.
Casa alla Fasanese
The Fasano house is an ancient house of the ancient village of Fasano, organized on two levels. On the ground floor, there is the hall, where family life took place. From an arch with exquisitely baroque shapes, it was possible to enter the alcove, a night space for the parents, closed by a tent if necessary. Next, here is the camarino, a small room for the shelter of the sons. Going up the stairs, you enter the mezzanine, the room once reserved for female daughters.
In the '60s, the house underwent substantial changes: the arches were closed with doors, the lime that let glimpse the tuffs was covered with paint, the kitchen was structured in the mezzanine.
The renovation of the Suite has preserved its integrity, bringing to light the original beauty with all the comforts for an unforgettable stay: air conditioning, free wi-fi, mosaic shower box for two people in a tuff and stone bathroom right where it was the camarino. A courtesy kit for guests, a kitchenette with induction hob and an Apulian gift for our most loyal guests are waiting for you in Suite Fasano.